Chester
In June of 2013, we lost our beloved Golden Retriever Dylan to brain cancer. My husband and I were so very sad, and thought about getting another Golden from Dylan's bloodline. We contacted the breeder, but they were no longer breeding dogs. They knew of another breeder that had a puppy returned. Upon contacting this breeder, we made an appointment to see the puppy. The breeder called us to say the original owners made a grave mistake. The breeder gave the puppy back to this family mending the heartbreak of their small children.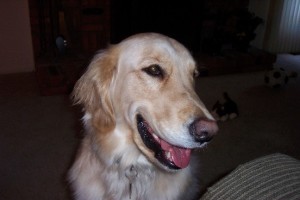 I had made several visits to area shelters.  A shelter in the Grand Blanc area posted a picture of a surrendered Golden Retriever one weekend. First thing on Monday morning I went to the shelter with leash, collar, blankets (for the car) water jug and bowl. I was first in line when the doors opened. When I stepped up to the counter, I found out that someone else already filled out adoption papers.
During my many computer searches, I came across Great Lakes Golden Retriever Rescue. In September, we filled out adoption papers and waited for a call. Kris Barthel contacted us, and conducted the interview process. No dogs were currently available, but she said to hang in there, I know there is a great dog that will come to you.
On January 17, 2014 Chester's picture appeared, a two year old who was with foster parents in Sparta, Michigan, about 160 miles from our home in Shelby Township. We called Kris Barthel to see if we could meet Chester, and she made the contact for us. The wonderful foster mom called us and arranged for us to meet Chester at their vacation home up north where they were skiing. This worked out well in that our vacation home was about 40 miles away, and we planned on going up for the weekend. We met, Chester, and his foster family, that cold snowy Saturday morning. While my husband and I drove to meet Chester, I reminded him of the memory I had of my loving Uncle Chester, and what a coincidence that we are going to meet a Golden named Chester. We met Chester, totally fell in love with him and brought him home January 20, 2014: Filling our home, once again, with Golden Love.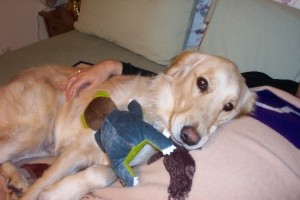 One day in May, Chester and I stopped to talk to a neighbor who had recently lost her Golden Retriever.  She asked how we got Chester. I told her about Great Lakes Golden Retriever Rescue, the wonderful people working there, and gave her the contact information. She adopted a five year old from GLGRR and we now meet on walks. We have two Great Lakes Golden Retriever Rescues on my block. How lucky are we?
We are so very happy to have been able to adopt Chester, and tell everyone we know how happy we are that we found Great Lakes Golden Retriever Rescue. Chester is a star with the neighborhood kids and us too!
– Carol & Al Toswell