Max
Our sweet boy, Max, is one of the Christmas Goldens rescued from a puppy mill where he lived in horrific conditions in a crate that was too small for his entire 2.5 years of life. He and the other Goldens were let out and had to fight for food daily, and our gentle boy just didn't have any fight in him. When he was rescued, he weighed 40 pounds (he is now a healthy 70 pounds). Upon arrival at his foster home, he didn't even have the strength to stand anymore. He needed IV fluids that were administered by his fabulous and wonderful foster mom, which more than likely saved his life. He spent several days simply lying on a rug on the kitchen floor, though he had a comfy bed available. He had no idea what comfort was.
With good, regular meals and an abundance of TLC from his foster mom, dad and human little brother, as well as comfort from another Christmas Golden rescue who was almost certainly his mom, as well as two family Goldens, Max began to respond. He got to go outside! He had never seen blue sky! He had never really heard birds, nor the chatter of squirrels, or anything other dogs get to enjoy every day.
Meanwhile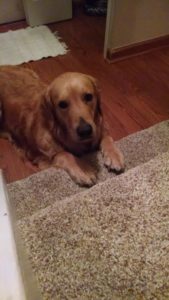 , we had recently lost both of our Goldens to cancer. We rescued a precious little baby Basset Hound Lab mix named Sadie, whom we adore, but we were missing our Goldens desperately. We decided to check out GLGRR, applied, were interviewed and settled down to wait. As we perused rosters, we found dogs that were adorable, but there was always a catch. Cats! We have three very spoiled ones.
One day, we received a roster and saw Max. I fell in love with him before even reading his profile. My entire family and I knew he was the one. You see, one of our Goldens we lost, our big hearted 11-year-old boy who passed from mast-cell cancer, was also named Max. We knew this was a sign from our boy that is was OK to get another Golden. He knew we weren't trying to replace him, but to share the love we had for him with a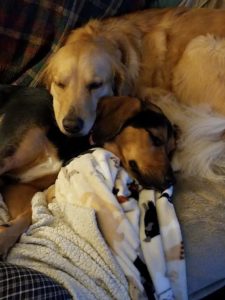 nother so desperately in need.
In March, 2016, we traveled to Charlevoix from our home in Canton and brought Max home. He is amazing. I can't say enough about this precious boy, or his foster family, who are truly miracle workers. Max adores his sister, Sadie, and is gentle and sweet with all of the cats, who have responded to him with all of the love they had for our other Goldens. He is always ready to hop onto the sofa to keep my feet warm, loves to play outside with Sadie or us, and Sadie, the great big sister that she is, even taught him to dig…a big hole…right in the middle of the back yard! He plays fetch, he loves walks, car rides and visiting Grandma and Grandpa's 15 acres where he and Sadie run like deer all day! He is still learning about new people, and is sometimes shy, but there is nowhere in the world he would rather be than with his family. I couldn't love this dog more. He has richly blessed our lives, and I am beyond grateful for GLGRR for the phenomenal work you do, not only to save the lives of the dogs, but fill and heal the hurting hearts of families desperate for the love of a Golden Retriever.      – Jennifer, Richard, Andrew, Ethan, Elisabeth and Emily Wolf (and Sadie, James, Matthew and Delilah, too!)