Special Needs
Some Goldens that come into Great Lakes Golden Retriever Rescue have higher needs than others. We encounter dogs that have extraordinary medical expenses. Most of our foster homes work on basic manners with their foster dog. Some of our Goldens require behavioral training and others have been emotionally abused and need some positive training, confidence building, and extra love! Below are stories of our past and current special needs Goldens!
Keeper's Story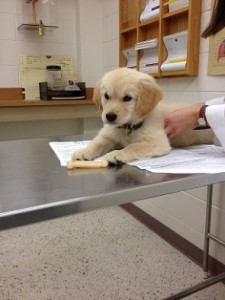 Keeper came to us as a reject from a breeder on July 30th. He had been sold, the new owner took him to the vet where the vet discovered that Keeper had a relatively common heart problem. Common, but expensive to fix, he was returned to the breeder. The breeder didn't want to take on the expense, so offered him to Great Lakes, for no fee (she generously said), so we could fix him and find him a good home. My husband and I picked him up and took him to Michigan State for a despairingly fatal diagnosis. Keeper had several birth defects in his little heart, the blood was not pumping adequately which caused the artery to become thinner and thinner as muscle formed. His prognosis was horrible, and they were unable to give us a timeline. We decided Keeper would have the happiest life he could as long as he could have it. We brought him home, started him on supplements to strengthen the rest of his body so he could stay with us as long as possible to enjoy the life of a puppy. This was a heart breaking experience, but more than that, it was huge lessons learned from a wonderful little guy. Keeper taught us five important things:
Celebrate everything – a flower you've snatched from your mom's pot, a piece of cat poop, or just the fact you get to sleep with your humans every night with your mom's hand on your back.
Just being around is enough – you don't have to be center stage performing all the sit and stay stuff, you can just lay in the warmth of the sun and still be loved.
Size doesn't matter – there are plenty of big dogs, and plenty of big, beautiful dogs, but if you have a great personality and a sunny disposition, you can leave those big guys in the dust – even if you only weigh 18 lbs.
Don't try so hard – there's no point in licking and nudging to get attention. It seems most times those of us who wait for it instead of demand it, get more.
You can get along with anyone – big goldens, little dogs, kids of any size, my mom's excessively crabby cat, and even the chickens. If you work hard enough at it, there is something good in everyone – including Wicked (the really obnoxious, not nice cat).
Keeper died quickly on October 24th. We were with him, and were shattered, even though prepared. Being on the healing end now though, we would not have traded that time with him for anything. His spirit will be with us as we give each new dog the chance we gave him. Keeper's lessons were learned and will be returned. How truly fortunate we are to work in a rescue that it willing to give every dog a chance at a better life, no matter how long that life will last. Because really, do any of us know?