Sunny Belle: A Christmas Golden's Story
'TWAS THE WEEK BEFORE CHRISTMAS
IN TWENTY FIFTEEN
ELEVEN GOLDENS WERE RESCUED
BY THE GLGRR TEAM
THE FOSTERS CAME QUICKLY
TOOK THEM INTO THEIR CARE
'TIL ADOPTED BY FAMILIES
WHO WOULD ALWAYS BE THERE"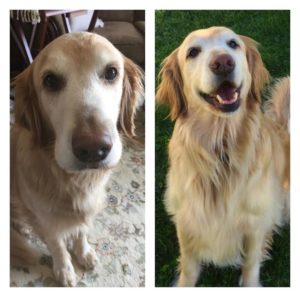 In December 2015, we contacted Great Lakes Golden Retriever Rescue hoping to adopt a nice companion dog for our sweet six year old Border Collie mix, Bentley.  Around this time, eleven "Christmas Goldens" were rescued from a hoarding/puppy mill situation.  The Goldens quickly received the medical care they needed, and were evaluated by Fosters to determine their needs in a permanent home.  In late February, after "Sunny" had celebrated her sixth birthday, her Foster family determined she was ready for adoption.  We interviewed with the GLGRR team, and all of our questions about Sunny were answered.  We made arrangements to meet her in person, Sunny and Bentley got along well immediately, and it was clear that she was meant to be ours.
It has been nearly a year since Sunny was rescued by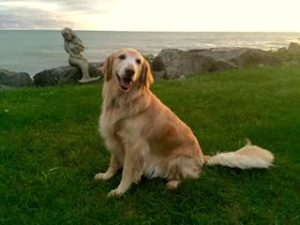 GLGRR, and she has been with us for ten months.  She is happy, healthy and such a delight.  Her beautiful coat has grown in thick and shiny due to quality food, fresh water and a flea free life.  She sleeps well at night on a soft bed, the bad dreams have stopped, and she wags her tail often.  Rough broken teeth (from crate chewing) are now smooth and clean from having nice bones to chew on.  Her muscles are stronger now with exercise, she can run and jump (or rest) whenever she wishes.  As the Foster Family predicted, Bentley's gentle but outgoing personality was just what Sunny needed.  We have had to teach her that she is welcome on the furniture, and she loves having toys.  A look of pure joy appears on her face whenever we ask her if she wants to go outside.   She is the most wonderful sweet girl, her gentle Golden personality is amazing, and you would never know what she had been through.   Sunny and Bentley are best friends, share everything nicely, are usually found near each other, and they run and play together like puppies.  We all have more fun outside now.  Sunny loves the spa treatment:  she willingly walks into the shower for baths, and happily waits to be toweled dry and brushed.  She loves children, car rides, golf cart rides, snow, rain,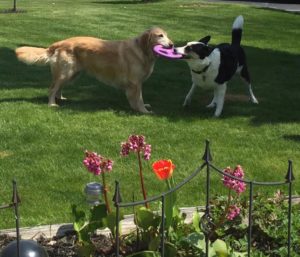 sun, shade, and being loved.  By the end of summer, she was learning to swim–at first she was afraid of the lake. Bentley fetches the deep water toys, and hands them off to her as she waits in shallow water.  Of course, nothing matches the joy of (two dogs) chasing squirrels up a tree.  I was pleasantly surprised when she confidently barked to alert me about a delivery man one day.  Bentley was napping, and we now enjoy having a security backup.  Adopting an Adult Golden from GLGRR with a thorough evaluation from a loving Foster made for an ideal adoption, and we are so thankful.  This will be Sunny's first Christmas with us, and we have added Belle to her name in celebration of her beautiful personality.  We send love and best wishes to the GLGRR families, especially the Christmas Golden family of our dear Sunny Belle.
Debra, Jim, Bentley and Sunny Belle Currier