Holistic Vetting Success Stories
Caden's Story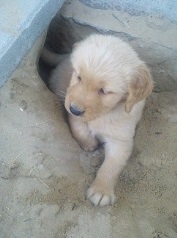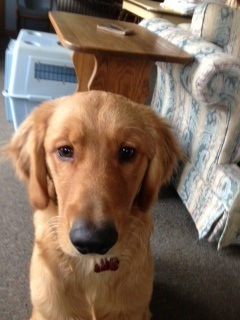 On Easter, 2013, we received four Golden Retrievers from a breeding operation. All four dogs were heartworm positive, had parasites, and were a tad underweight. We knew that it was a possibility that the female dogs could be pregnant. Both females were very skinny, but we did find out that one female Golden was expecting. On May 23, 2013, five Golden puppies were born. When they were born, they were all pretty healthy considering the condition their mom was in, except for one male puppy that was smaller than the rest. The foster named that puppy Caden, which meant fighter. At the time, we didn't know the challenges Caden would face. He required extra care than what the other puppies needed, but he eventually grew to be similar size as his siblings and acted completely healthy. At the puppies visit to the vet, we found out that Caden and one of his sisters had abnormal hearts. Caden's sister just had a slight heart murmur, but Caden's was very serious. All of his siblings were adopted out to loving families, but Great Lakes kept Caden so that we could figure out the extent of his heart defect and get him the care that he needed.
Great Lakes had Caden visit the Michigan State University (MSU) Veterinary Center to get further testing. After the testing, we found that he had a hole in his heart and other heart valve issues. The surgeon stated that he probably wouldn't live more than 6 months to a year and that he needed to be kept somewhat quiet. There was a 50/50 surgery for $15,000 – $20,000 that they could perform, but it was well out of budget. Great Lakes never let Caden's prognosis put doubt in our mind. After the success attained with Aliya, GL made an appointment with Dr. Wilson. Caden had bad circulation, along with other parts of his body that needed support. Caden brought home a bag of natural and homeopathic supplements that would help support weak organs so that all of his energy could be used to heal his heart. Caden took all of his supplements, did not receive the recommended vaccinations, and was kept homebound so that his immune system was not compromised.
Caden's 6-month and 9-month ultrasounds at MSU showed improvement. At his one year ultrasound at MSU, the surgeon stated that he was pleasantly surprised at Caden's condition. Caden was thriving and growing! Caden continued to visit Dr. Wilson so that we could add any supplements that Caden needed at the time, and take out any supplements he no longer needed. Caden even started going on walks and expanding his world. At his year and a half visit to MSU, the surgeon was again pleased we were told to keep doing what we were doing. His heart was not completely healed, but had gotten better each visit. Caden recently turned two years old and to look at him, you would never believe the journey he has had. He regularly visits Dr. Wilson and continues on his supplements. Caden is full of energy and loves playing with his two-legged and four-legged family members. He has another appointment at MSU coming up. The surgeon stated at Caden's last visit that this should be his last ultrasound and that barring a significant change, Caden would live a full life. We fully expect another good report! Caden will not be adopted out because we feel he is the perfect ambassador for Great Lakes and holistic/homeopathic vetting. If surgery is not an option or it is too expensive for an owner, a holistic approach can provide hope and often the healing desired. It gave Caden a chance to live a happy life!
Aliya's Story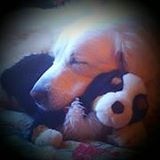 Great Lakes took in a Golden Retriever/Great Pyrenees mix. Aliya was in pretty bad shape physically and emotionally. She had a severe case of fleas, was very thin, and the pads of her feet were burned from the conditions she lived in. Although her physical state was bad, her emotional state was worse. Aliya would not even look at people; she was truly terrified of humans. Aliya eventually bonded with the foster's teenage daughter and we worked from there. We spent months working on eye contact and being okay with being in the same room with people. Aliya also had another major issue: separation anxiety.
Great Lakes has worked with several dogs that have separation anxiety, but never like what Aliya had. When left alone in the house, she would destroy anything in her path in an attempt to get out a window or door. This high level of anxiety also made it very difficult for Aliya to gain any weight. Of course, her foster home tried crating her, but she broke out of heavy duty crates with ease. Confining her to a room did not work either because she jumped gates and chewed on doors. The vet prescribed medications like Xanax and Ace to try and control Aliya's anxiety, but those meds did not phase her. Great Lakes even bought a crate that was supposed to be "indestructible." That kept Aliya contained for a few days . . .
Aliya was running out of options and her foster family had to live their life around Aliya so that someone was always home. Her foster mom found out about Dr. Char Wilson who is a holistic/homeopathic vet. Dr. Wilson uses natural supplements and homeopathic remedies to help animals to keep their bodies balanced. Aliya went to visit Dr. Wilson and she went through the testing. The testing showed that she had many things out of balance and obviously her anxiety levels were extremely high. Aliya started on several supplements. Dr. Wilson also recommended giving Aliya a few Composure chews 30 minutes before leaving the home. It is all natural and is just like a treat for dogs. After a few weeks of taking her supplements regularly and taking Composure when she was in high anxiety situations, her foster family could see that Aliya had less anxiety on a day-to-day basis. They did a trial and gave Aliya some Composure before they left, drove around the block, and when they came back Aliya was resting by the door.
Today, Aliya can be left at home all day and is completely fine. She continues taking her supplements, but no longer needs to take Composure before her two-legged family members leave. Based on the recommendation of GL's trainer/ and the foster's knowledge and experience with Aliya, it would not be good for Aliya to be moved again. Living with Aliya can still bring challenges (i.e., changes to routine, visitors, etc.), but overall she is stable and able to function in the foster home.